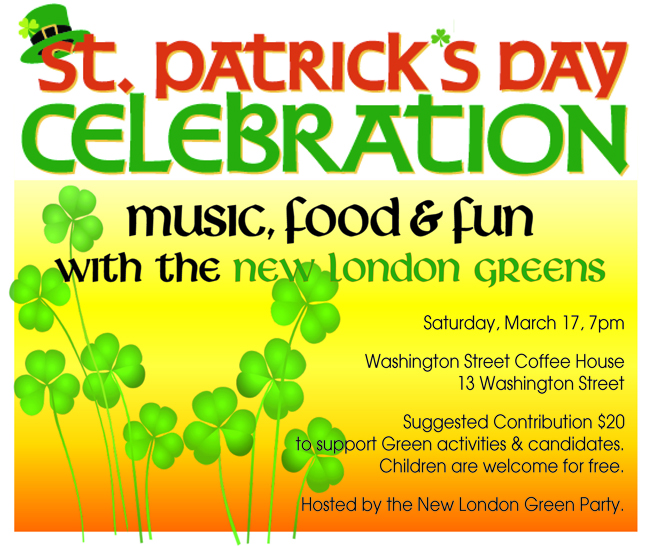 Come to our St. Patrick's Day/Spring Equinox Celebration on Saturday, March 17! The party begins at 7pm at the Washington Street Coffee House, 13 Washington St, New London.
Expect music, food and fun, featuring The Carolans, Dan & Friends, and more, as well as a great selection of raffle and silent auction items! Suggested donation $20. (No one turned away for lack of funds.) Children welcome for free.
More details soon!
Online Contributions enabled
Our new online contribution system is up and running! If you'd like to support the New London Greens with a credit card donation, you can do it here.
However you choose to support Green Party activities and candidates, we are grateful to all our donors, volunteers, and partners in New London and beyond its borders.
Next NLGP meeting - April 6
The next meeting of the New London Green Party will be held on Friday, April 6, at 7:00pm. The meeting will take place at 19 Evergreen Avenue, and, as usual, a potluck supper will precede the meeting at 6:30.
All are welcome – Green Party members, supporters, and anyone who'd like to learn more about the New London Greens.
Mirna Martínez elected BOE President
Congratulations to Mirna Martínez, who was elected President of the New London Board of Education at its swearing-in and organizational meeting on December 4, 2017. Other officers are Manuel Rivera, Vice President, and Regina Mosley, Secretary, both Democrats.
For the first time in New London's history, a Green Party member was chosen as board president. In addition to officers Rivera and Mosley, Democrats Jefferey Hart, Rebecca Amanti, and Jason Catala, as well as Republican Susan Tierney, serve on the current board.
Board of Education meetings will be held on the second and fourth Thursdays of each month. The public is welcome to attend!