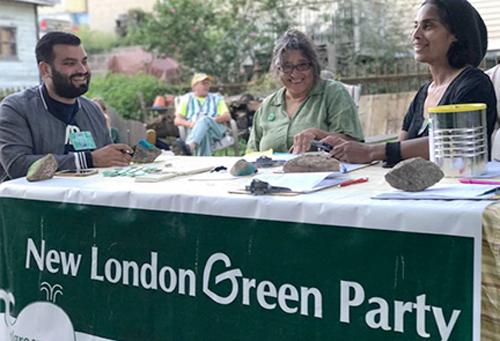 At a special nominating meeting held on June 14, 2017, the New London Greens nominated two candidates for Board of Education. Two-term incumbent board member Mirna Martínez received 1,718 votes in 2015 and was the only non-Democrat elected to municipal office that year. First-time candidate Erick Carrión is a 2010 New London High School graduate who has worked as a community organizer for FRESH New London and Hearing Youth Voices. We're looking forward to an energetic campaign!
You can donate or volunteer to support #TeamGreen for NL Board of Ed! (Chrome browser recommended for best results.)
Help us launch our campaign!
The New London Greens will kick off this year's campaign with a party from 7-9pm on Saturday, September 23, at our headquarters in New London's historic Lyric Hall, 243 State Street.
Meet our Board of Education candidates Mirna Martínez and Erick Carrión, hear about this year's education issues, and learn how you can support the campaign, while enjoying snacks and beverage on us. Feel free to bring an instrument for some informal music making. The whole family is welcome!
Next NLGP meeting – October 1
The next meeting of the New London Green Party will be held on Sunday, October 1, at 7:00pm. The meeting will take place in our campaign office at 243 State Street.
All are welcome! Please attend if you would like to learn what the New London Greens are planning for 2017 and are interested in getting involved.
Green Party of CT election results
The annual meeting and election of officers of the Green Party of Connecticut took place on Sunday, April 30, 11am-5pm, at the Waverly Center in Portland, CT. Workshops were held on the topics of Public Banking, Immigrant Rights, Outreach Strategies, Regulation of Drones, Public Education Concerns, and 168 registered Green Party members cast ballots (in person or by mail) for State Central Committee officers. Baird Welch-Collins, Emily Garfinkel, and Mike DeRosa were elected to the 3 co-chair positions; Ronna Stuller was elected secretary; Chris Reilly was elected treasurer; and Mike DeRosa, Joshua Steele-Kelly, and Baird Welch-Collins will be our representatives to the National Committee.
The 5-member Executive Committee is made up of the co-chairs, secretary, and treasurer. Contact them by email at GPCT-executive@greenregistrar.us.