2020 Election Results
New Londoners had 2 or 3 Green Party candidates on their ballots this year, depending on the district they reside in. Here are the results of races that included Greens:
| ELECTORS FOR PRESIDENT/VP | VOTES | VOTE % |
| --- | --- | --- |
| Biden and Harris (D) | 1,078,377 | 59.24% |
| Trump and Pence (R) | 713,660 | 39.20% |
| Jorgensen and Cohen (L) | 20,293 | 1.11% |
| Hawkins and Walker (G) | 7,519 | 0.41% |
| REPRESENTATIVE IN CONGRESS CD2 | VOTES | VOTE % |
| --- | --- | --- |
| Joseph Courtney (D) | 217,982 | 59.36% |
| Justin Anderson (R) | 713,660 | 39.20% |
| Daniel Reale (L) | 3,901 | 1.06% |
| Cassandra Martineau (G) | 4,949 | 1.35% |
| STATE REPRESENTATIVE 39TH DISTRICT | VOTES | VOTE % |
| --- | --- | --- |
| Anthony Nolan (D) | 5,079 | 76.99% |
| Kat Goulart (R) | 1,280 | 19.40% |
| Erycka Ortiz (G) | 238 | 3.61% |
Full Connecticut election results are available here.
2020 Green Party candidates
The Green Party 2nd Congressional District nominating convention was held as an online conference on Sunday, July 12. Co-hosted by the New London, Windham, and Shoreline chapters, the purpose of the meeting was to nominate candidates for public offices within our district.
Williamantic resident and longtime social justice advocate Cassandra Martineau was nominated to run for the 2nd district Congressional seat.
Other Green Party candidates who appeared on ballots within our region included: Erycka Ortiz (State Rep 39th district), John May (State Rep 35th district), Keith Foster (Essex Registrar of Voters), and Enevia Baidoo-Keene (Windham Registrar of Voters).
The Green Party candidates for President and Vice President are Howie Hawkins and Angela Walker, respectively. Learn more about their campaign here.
This year's Green Party candidates could be found on the ballot on Row F: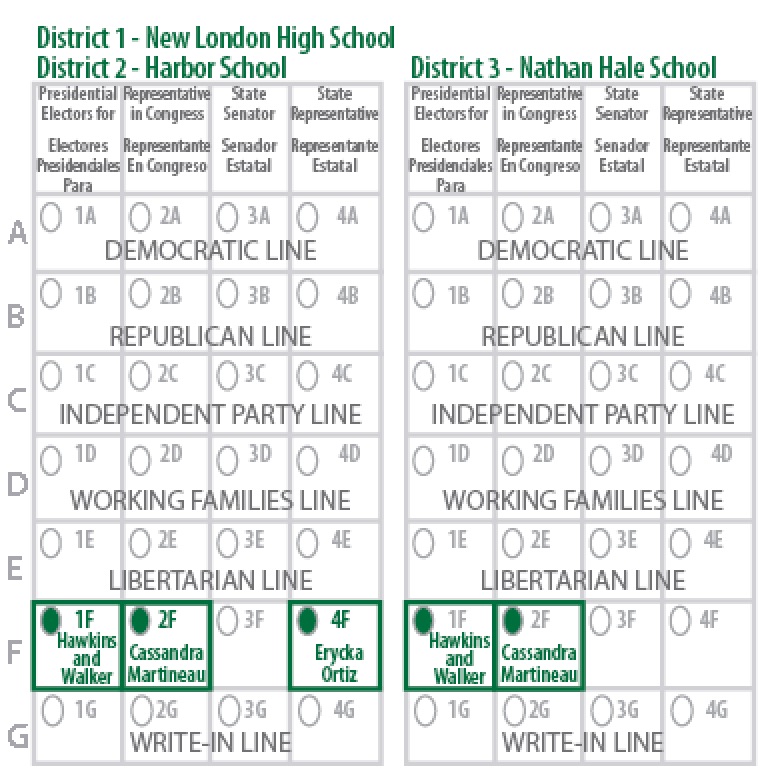 Wherever you live in Connecticut, names of all the candidates on your town's ballots can be found on the samples that are posted on the Secretary of the State's website.
Lifelong social justice activist Cassandra Martineau, who resides in Windham and serves on the Zoning Board of Appeals there, was endorsed to run against incumbent Congressman Joe Courtney. She is an executive officer of the Willimantic NAACP and founder of Willimantic Rainbow Connection, an LGBTQ+ group. "It's time to stop begging politicians for relief for working families and under-represented populations.  We need to lead the way to change."
Martineau's platform stresses Medicare for All NOW, a Green New Deal centering on local control of utilities, $15 minimum wage, supporting public education without standardized testing requirements, and ending qualified immunity for police. in order to combat the influence of corporate money in politics, Green Party candidates accept contributions only from individuals, never from businesses or special interest groups.
Erycka is a 21-year-old artist, writer, singer, healer, and organizer. As a a Black Latinx visible Trans womxn, she re-imagines the world and what it looks like to heal, love, and live outside of current created boxes for mankind, and works to create space for all and become a part of the collective healing. "My mission is to access liberation for all Black and POC folx. To escape the invisible chains 'bounded' to my people."