The 2022 Green Party Candidates
Governor/Lt. Governor (write-in) - Michelle Bicking & Cassandra Martineau
Attorney General - Ken Krayeske
US Congress, 1st district - Mary Sanders
US Congress, 2nd district - Kevin Blacker
US Congress, 3rd district - Justin Paglino
State Senate, 1st district - Michael Oretade
State Senate, 29th district - Jean de Smet
State Senate, 34th district - David Bedell
State Representative, 35th district - Hugh Birdsall
Registrar of Voters, East Hampton - Brian Gay
Registrar of Voters, Essex - Keith Foster
Registrar of Voters, Windham - Doug Lary
Registrar of Voters, Wolcott - Sherri Conroy
Ballots for the November 8 Election
The Secretary of the State has begun posting sample ballots for the upcoming election; find your town's ballot here.
For New Londoners, ballots for the 1st and 2nd voting districts (polling at New London High School and Harbor School):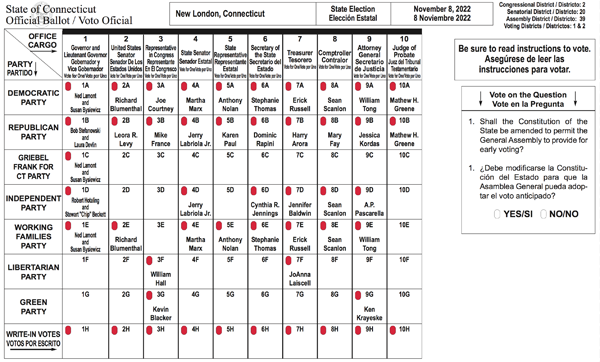 How to vote write
-

in for Michelle+Cass
COVID & High Risk Populations
On the two year anniversary of Governor Lamont's first executive order on Covid-19, the Green Party of CT hosted the forum: Deliberate Indifference: Pandemic, Public Health, and High Risk Populations, with speakers Kathy Flaherty, Alex Marie, and Alicia Hernandez Strong sharing insights on the pandemic's impact on disabled people, people with compromised immune systems, and people in prisons and other institutions.
The presenters examined the failure of ableist public health policy, and considered what might have been done and what still must be done to create policies that protect the well-being of everyone in the community.
Kathy Flaherty is a disability rights activist and attorney, and Executive Director of Connecticut Legal Rights Project. Alex Marie is an immunocompromised person active in local disability rights work; Alicia Hernandez Strong is a founder of the New Britain Racial Justice Coalition.
NL Board and Commission openings
New Londoners have a long history of community service through becoming active members of City boards, agencies, commissions, committees, and authorities, and participation by Green Party members is strongly encouraged. Board members are appointed by City Council or by the Mayor, and many have requirements for minority party representation.
A list of New London boards and agencies can be found here.
The application to join a city board or agency can be found here.