New London Greens to meet on 8/11
The New London Green Party wil have an in-person meeting on Thursday, August 11, on the deck (weather permitting) at 19 Evergreen Avenue. Pot luck dinner at 5:30pm, and meeting starts at 6:00. Among other things, we'll discuss this year's elections (including for 39th district Assembly seat) and initiatives and groups to support over the next year.
Hope to see you there!
Help us petition for statewide offices!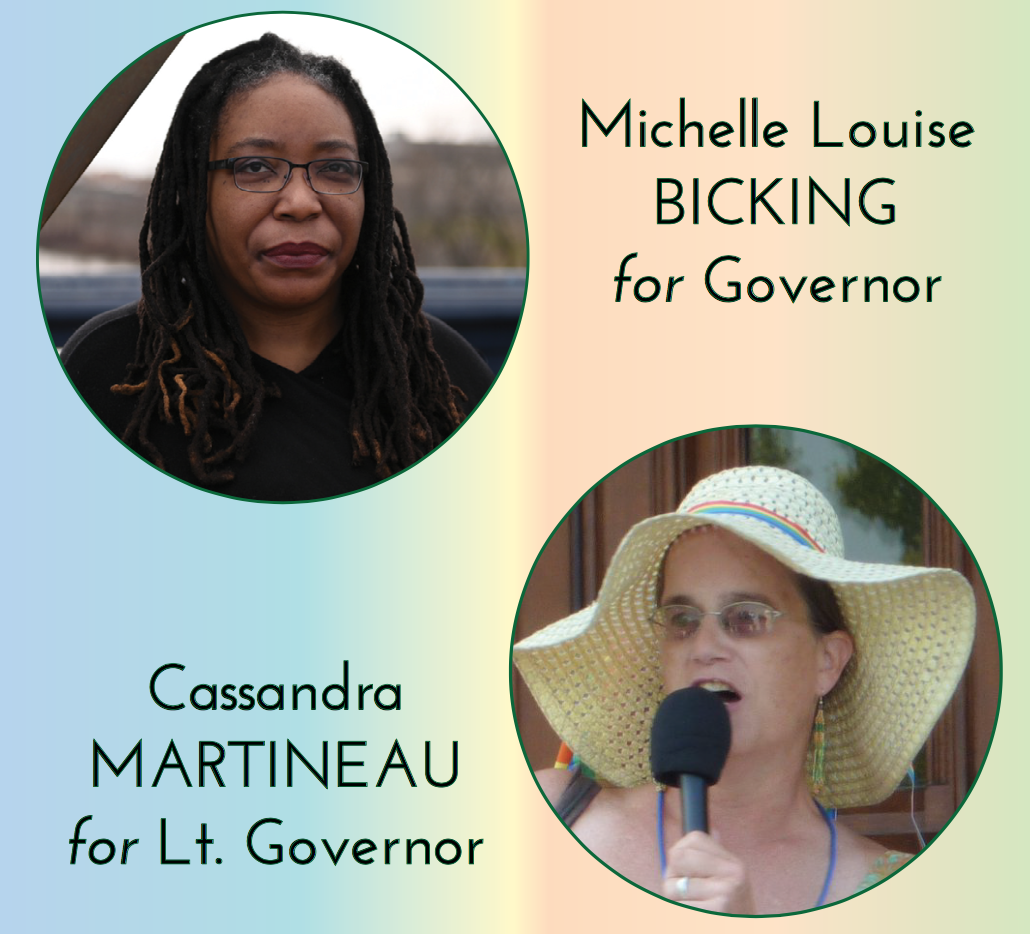 Michelle Louise Bicking is this year's Green Party candidate for Governor, Cassandra Martineau is joining the slate as candidate for Lieutenant Governor, and there are plans to run candidates for the other statewide constitutional offices (Secretary of the State, Attorney General, Treasurer, Comptroller) as well. Petitioning for ballot access is in full swing, and we are seeking individuals to collect signatures - on a paid or volunteer basis - to help our candidates get on the ballot. We are offering $99 for 99 signatures (approximately one very full day's work), with the option of contracting for continued petitioning for a higher rate (likely $2/signature, though the scale has not been finalized yet.
We have the petitions, clipboards, and other materials needed. Petitioners need to be Connecticut residents who are 18+ years old. Petition signers can be registered with any party or unaffiliated voters, who'd like to see more choices on the ballot.
If you are interested in helping, email us for more information. THANKS!
COVID & High Risk Populations
On the two year anniversary of Governor Lamont's first executive order on Covid-19, the Green Party of CT hosted the forum: Deliberate Indifference: Pandemic, Public Health, and High Risk Populations, with speakers Kathy Flaherty, Alex Marie, and Alicia Hernandez Strong sharing insights on the pandemic's impact on disabled people, people with compromised immune systems, and people in prisons and other institutions.
The presenters examined the failure of ableist public health policy, and considered what might have been done and what still must be done to create policies that protect the well-being of everyone in the community.
Kathy Flaherty is a disability rights activist and attorney, and Executive Director of Connecticut Legal Rights Project. Alex Marie is an immunocompromised person active in local disability rights work; Alicia Hernandez Strong is a founder of the New Britain Racial Justice Coalition.
NL Board and Commission openings
New Londoners have a long history of community service through becoming active members of City boards, agencies, commissions, committees, and authorities, and participation by Green Party members is strongly encouraged. Board members are appointed by City Council or by the Mayor, and many have requirements for minority party representation.
A list of New London boards and agencies can be found here.
The application to join a city board or agency can be found here.